29 Aug 2014, 12:20pm
Uncategorized
by
bartsmom

7 comments
Hoppy Friday Everpawdy!!
Bart is doing FANTASTIC! It was such a good decision to stop chemo! He is back to his old self and we are keeping his body as strong as possible internally and externally. He is taking K9 Medicinal products, Fish Oil, BioPrepF3+ (algae pills) and Herbsmith Comfort Aches for some stiffness I have noticed him experiencing.  Next week, we have an appointment at Georgia Veterinary Rehabilitation Specialists to get a full work up on what we can do to keep him active and comfortable now and in the future.  I am really looking forward to meeting the owner of this facility, as I have heard that she is amazing. They are a full service facility, offering Physical Therapy, Hydrotherapy, Chiropractic care, Acupuncture and Chinese Medicine. I am hoping they can provide me with exercises I can do for him at home to keep him strong and comfortable.  I also want to get into a facility sooner rather than later so that when/if he starts experiencing serious pain down the line we already have a place to go for support. Bart has been on 3 legs for over 6 years and, trust me, he has put a lot of miles on that front leg. I knew all along that eventually we would have to deal with pain in his front leg, but I knew that Bart had to be a Dog, he had to be a Vizsla and he had to run and hunt in order to continue to live to his full potential.  There are no regrets…absolutely none.
We also have a professional photography shoot scheduled for the end of October at a Goat Farm in Atlanta. I have wanted to do this forever, and am looking forward to it. We are waiting until the end of October because there is a chance that Bart will have a new little Vizsla sister by then and I would like to share this moment with both of them.
We are ready for cooler weather, as this heat takes such a toll on Bart and his activity. I am looking forward to letting him hunt on our farm as he so loves to do.
We are going back to Bart's oncologist in October for a chest X-ray to see if there are any mets…I will be nervous but I am mentally ready for whatever comes along.  Bart leads an incredible life and he will continue to do so no matter what comes our way. For now, Cancer…you better stay away!!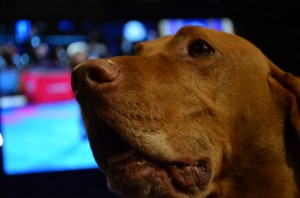 This is Bart waiting to receive his award at the AKC/Eukanuba Championships as the 2013 ACE Exemplary Companion…he is pretty handsome, don't you think?
I hope everyone has a great and safe Labor Day Weekend!
Love,
Darcy & Bart