31 Mar 2019, 12:21am
Uncategorized
by
bartsmom

3 comments
So, it has been a long, long time since I have posted about Bart…maybe years.
But, a day never goes by without thinking about my boy and the incredible life he lived, the lives he touched, and the people he inspired because he never gave up.
Bart never gave up, which is how he earned his Master Hunter (MH) Title 10  months post amputation and twenty-two placements in competitive hunting events.
Bart never gave up, which is why the Wounded Warriors he took on guided hunts considered him an Honorary Wounded Warrior.
Bart never gave up, which is why he became the first Vizlsa in history to be awarded the American Kennel Club's esteemed ACE Award in the category of Exemplary Companion.
Bart never gave up, which is why he remained in remission from osteosarcoma for six years until his body could no longer handle the terrible disease we all know too well and he earned his wings.
Although Bart is no longer by my side, his legacy remains a part of me and is a constant reminder of what can happen if we never give up. Because of this, Bart is now the first Tripawd in history to be inducted into the Vizsla Club of America's Hall of Fame.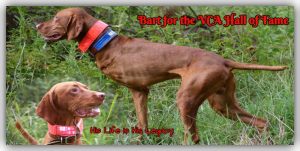 Thank you Bart for teaching me and a whole lot of folks that life is just too short to ever give up!