22 May 2014, 7:57pm
Uncategorized
by
bartsmom

4 comments
Hi Everypawdy!!
As usual, Bart is involved in fantastic events and I am the lucky soul who gets to go along for the ride!
We were invited to attend a Police Dog Demonstration held by the Douglas County Sheriff's Department to reward an elementary school that raised the most money in their local penny drive. The money raised is all donated to Chase Away K9 Cancer and the founder of the organization flew in from Oregon and asked Bart & I to join in the fun! Bart made his appearance and the children absolutely LOVED him!! At one point, over 30 kids swarmed Bart to pet him and meet him and he ate it up like chocolate pudding! Bart has the calm confidence with humans that is just incredible. The swarm of kids never rattled him and when the sea of children parted, you could see his happy Vizsla face looking up at them all with his tail wagging.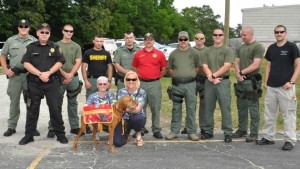 We even made the front page of the Douglas County Sentinel! Just look at those smiling faces…another once in a lifetime experiences I have been fortunate to have with Bart!!
He had round 2 of his chemo regimen yesterday and is eating and resting comfortably in my office as we speak!
I am amazingly not stressed about this second battle. I am not going to worry about something that has not happened and am just going to try my best to do whatever I can for him. I love Bart with all my heart. I don't want to lose him. I really don't. But I also don't want to taint the amazing time we have right now with my fears of what might happen in the future.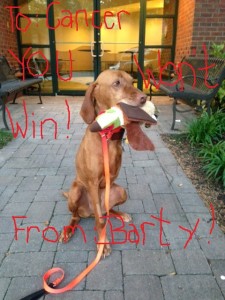 I am still following Bart's lead of happy happy joy joy! And Bart's message to cancer is clear!! YOU WON'T WIN!!
We hope everyone has a magical Memorial Weekend!
We Love you All!!
Darcy & Bart