12 Sep 2014, 2:36pm
Uncategorized
by
bartsmom

6 comments
Happy Friday Everyone!!
What a whirlwind of emotions we have experienced this last week since Bart left us. Our home is not the same without him. We miss him sitting with us on the back porch at the end of the day, trying to maneuver his 55 pound body into our laps.
But, he is still with us…
When my husband Lane was preparing Bart's final resting place his wedding band slipped off his finger and we could not find it anywhere. Unfortunately Lane had used the tractor and back hoe for this project and had moved around too much dirt in the process. After exhausting all efforts to find it, Lane decided that it was where it was supposed to be – with Bart forever.  My heart ached with such a sweet sentiment.
Yesterday morning I awoke abruptly to see Bart standing in our bedroom doorway and he was Peeved!! He was giving our male German Shorthair Pointer, Maxx, the evil eye for sleeping on Bart's bed on the floor next to our bed. Bart never really like Maxx and Maxx would play upon Bart's jealousy of me with any other male dog.  Bart's face was priceless and he was as real standing there as these words on this page. I still laugh out load as I remember Bart's expression.
Yesterday afternoon, after Lane unloaded stuff from my car he told me that he saw Bart standing in the back seat of my car as he always did and it was so real to him that he almost said, "Hi Bart."  I told him that I understood and that Bart had appeared numerous times already in different parts of our home.
Better yet, yesterday Lane went down to Bart's resting spot and could not believe when suddenly his wedding band appeared amidst the dirt and grass in the area where Bart had been placed.  Lane is 100% positive that Bart pushed the ring to the surface so that it could be found.  I agree with his assessment.
Bart's presence is felt everywhere and for that I continue to be grateful that he was placed in my life…in our lives. He is just as amazing now as he ever was and is still taking care of us, his family. What an amazingly kind creature and soul.
Bart, I feel you everywhere. Thank you for making this portion of the grieving process easier than I could have ever imagined. The one terrible moment when you left us pales in comparison to the millions of moments we shared then and now. You are the best!! I love you!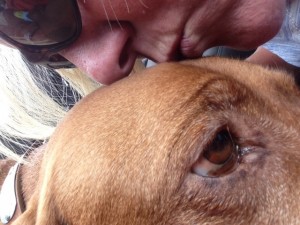 Darcy & Angel Bart